With just a couple of weeks to go before the Halloween parties start, it's time to start planning our spooky costumes now!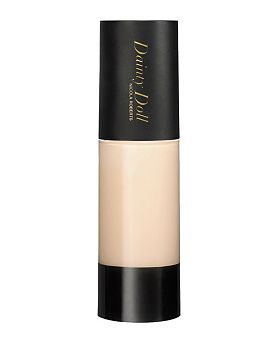 We've heard the most popular fancy dress choices this year are Mayor of London Boris Johnson and The Only Way is Essex's Amy Childs. However, if you're looking for something a little more sophisticated than a blonde mop-top wig and a push-up bra, then we recommend you keep it simple by opting for a sleek outfit teamed with a vamped-up make-up look.
With this season's catwalks teeming with ghost-like models rocking alabaster skin and dark lips, it's not hard to find great reasonably priced Halloween make-up out there on the high-street.
Here's a selection of our favourites…
In Boots we found the perfect foundation for that Dita-Von-Teese style porcelain complexion. It's called Dainty Doll Liquid Foundation and it's been developed by Girls Aloud singer Nicola Roberts for girls with particularly fair complexions.
We recommend you apply a number of layers of Dainty Doll foundation to your face and neck, taking care to blend well. This will give you a flawless base to work with – and you'll look positively ghostly.
Buy your Dainty Doll Liquid Foundation online for £22.00.
Over at the Max Factor counter we found a selection of Smoky Eyeshadow sticks in eight colour combinations. The double-ended Onyx and Smoke offers a fool-proof way to get that dark sultry look with just one sweep. A great trick for Halloween is to smudge a little of the darker 'Smoke' end along the hollows of your cheek bones before blending – producing a strikingly skeletal look.
Buy your Max Factor Smoky Eyeshadow online at Boots for £6.99.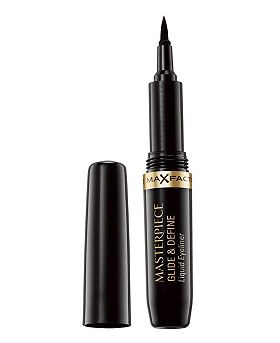 Here we also found a great liquid eyeliner. Max Factor Masterpiece Glide and Define Eyeliner combines the high definition of a liquid liner with the precision of a kohl pencil. At Halloween, liquid eyeliner should be your best friend. If you happen to have a bit of an artistic flair, we recommend you use your liquid eyeliner to draw cute Halloween-inspired designs around your eyes. We think tiny bats, delicate spider webs and skulls are great ideas.
Buy your Max Factor Masterpiece Glide and Define Eyeliner online at Boots for £6.99.
Last but not least – lips. No spooky make-up look is complete without a slick of sultry dark lipstick. In our bid to avoid the cheap, sticky stuff you get in costume shops, we scanned the high street counters and finally settled on Bobbi Brown in Selfridges. And we weren't disappointed – Bobbi Brown Lip Color in Black Raspberry is creamy, semi-matte and long-lasting – so (if you're feeling brave) you can rock this look on a regular night out and still be bang on trend.
You can buy your Bobbi Brown Lip Color online at Selfridges & Co for £18.00.
This Halloween you can be spooky AND sexy – just stay away from apple bobbing!