Fed up of finding bad pictures of yourself on social networking sites for all to see?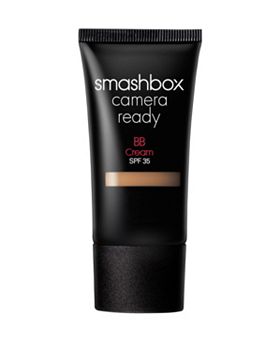 The days of discovering uneven, blotchy, spotty skin on your profile page are long-gone as photographers launch photo-friendly BB Cream.
The combination of flash, harsh lights and high definition technology isn't particularly blemish-friendly, and not all of us have access to photo editing software to airbrush those freckles, spots and dry patches away.
But what if it were possible to 'photoshop' yourself before your photograph was even taken?
Now two celebrity photographers have taken matters into their own hands to banish blemishes for good.
Dean and Davis Factor founded Smashbox Studios in 1990, a photography studio famed for being the go-to place for edgy, high-end magazine shoots.
Soon, Smashbox Photo-Finish Foundation Primer was born: spawned from the problem of models' make-up melting under the glare of hot lights. This primer minimised touch-ups during shoots and also proved a commercial success, setting the (literal) foundations for a whole Smashbox make-up range.
The most recent Smashbox launch is the Camera Ready BB Cream, designed to give an airbrushed look without the need for digital editing.
Smashbox BB claims to target skin in five ways:
Primes

– like the original Smashbox Primer, the BB cream creates a smooth canvas for foundation.
Perfects – five shades of tint means you can choose a colour that matches your skin and conceals blemishes.
Hydrates – promises to revive skin's moisture within four days.
Protects – SPF 35 protects your face from ageing UVA and UVB rays.
Controls oil – no more shiny face! Smashbox BB Cream minimises oil without leaving a chalky finish.
Sometimes particularly deep scars, skin conditions and skin disfigurements can show through even the best make-up. To find out how a camouflage professional could help you, please visit our Skin Camouflage page.
For our pick of the best BB creams on any budget, check out our July post on BB Creams.
Prepare yourself from impromptu photography! Grab your bottle of Smashbox Camera Ready BB Cream for £27 at Boots now.