You have one chance with eye-liner: one sudden twitch could undo all that time you spent painstakingly applying eye-shadow.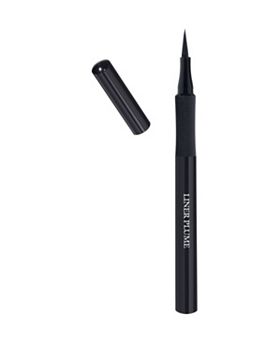 If the liner smudges, or if one side ends up thicker than the other, the whole lot will have to come off and before you know it you'll be surrounded by a heap of black-smudged cotton pads.
The problem with applying liquid liner to the upper lid is that every tiny twitch or shake of the hand can show up really easily, making your eyelid look like a seismograph after an earthquake.
Getting that neat, fluid line not only takes skill and practice – it also takes a good product.
In the stakes for 'easiest liner to apply', Lancôme Liner Plume is a strong contender.
Lancôme's newest eyeliner isn't exactly gel and it's not exactly liquid – it's more of a felt-tip pen, with a very fine nib that allows for more control than the usual brush applicators.
Instead of having to dip the applicator into a separate pot, the actual solution is inside the applicator – just like a pen.
The applicator makes it easy to draw fine lines and can also be built up for a darker, bolder look.
If you're looking for a natural, doe-eyed look you could try drawing a soft line right next to the lash-line (where the top eyelashes grow). This will add definition to the eyes without looking obvious.
For those of you looking to make more of an impact, you can build the liner up into a thicker line that ends with a fifties-style feline flick at the outer corners of the eyes. Think Dita Von Teese!
Lancôme Liner Plume comes in Noir Black and costs £22.
Bid panda eyes a farewell and head over to Boots to bag yours now.