Just Bitten Kissable Lip Balm Stain™ (and breathe) is the newest arrival in lip products from Revlon.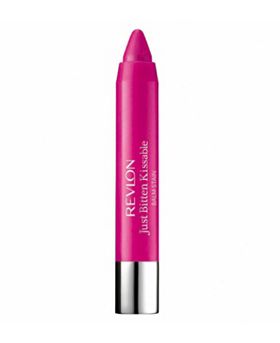 As the rather long-winded name suggests, it combines the soothing properties of lip-balm with the long-lasting colour of lip-stain in a chubby crayon form, making this the 'Transformer' of the cosmetics world.
The hybrid Revlon stick is designed to bring the best of three worlds to one product. Balm is great for soothing dry or cracked lips, stain is a fantastically long-lasting alternative to lipstick and the chubby stick is, let's face it, just more fun to put on.
Like a big, fat crayon, the retractable gel-like formula slides on precisely and satisfyingly without the need for a sharpener.
The new stick comes in seven summer-fruits style shades ranging from a very vibrant purple to a mellow rose hue, sweetly called 'honey'. The full range of colours choices are:
'Honey' – this is one for the natural beauties who like to keep it simple with a touch of pale rose.
'Crush' – a very vampy plum-brown for a seductive look.
'Romantic' – similar to Crush, this one is more of a chocolate brown (dark lips are all the rage this Autumn).
'Darling' – another feature from the catwalks, this bright purple shade is sure to turn heads.
'Cherish' – a toned down version of Darling with a paler, pinker edge.
'Lovesick' – a racy raspberry colour proving a hit with the celebs.
Rendezvous – evoking images of romantic encounters in the dusky streets of Paris, what else could 'Rendezvous' be but bright, seductive scarlet?
Following on from the gothic glamour look showcased on the AW12 catwalks, purple lips are tooted as the next in-thing. They've been spotted on the likes of pop-star Rihanna, actress Scarlett Johansen and supermodel Agnyess Deyn.
Each chubby stick costs £5.99. To get your hands on this kooky but cutting-edge collection, head over to the Boots website now.