Remember the glory days of gel pens and bendy rulers?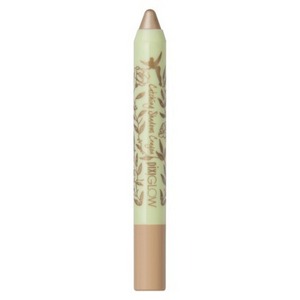 Remember when hording neat arrays of stationary in your fluffy pencil case was cool? Well, the glory days are about to be relived, because beauty brands everywhere are giving makeup a bit of a W.H.Smith makeover.
Why go for the age-old powder, liquid or cream form, when you could apply your makeup with felt-tip, or crayon? Bobbi Brown, Pixi, Yves Saint Laurent and Rimmel have all jumped on the stationary bandwagon this year, and we've decided to give them a look.
Skin: Yves Saint Laurent Touche Eclat
If there's an area for splashing out on makeup, it's foundation. A bad foundation can completely change the way you look. Whether it gathers around dry skin, comes out patchy or leaves unsightly orange lines, if it's cheap, you'll know. The Yves Saint Laurent Touche Eclat is a handy foundation pen that comes in seven luminous shades so you're sure to find a colour that matches you perfectly. Don't worry-  it's not a case of spending hours colouring in every inch of your face. Simple apply a small amount and blend with your fingertips for instant radiance.
Buy Yves Saint Laurent Touche Eclat at Debenhams for £25.
Eyes: Pixi Catching Shadows Crayon – Beaming Reflection
Pixi makeup is all about reviving childhood. According to the website, this crayon promises to "transport you all the way to Neverland in the wink of a fairy wing!" A steep claim indeed.
Promotional wording aside, this nude highlighter pen offers a nice middle-ground between cream and powder eye shadow. It has the sticky, thickness of cream, but the sheer, light look of powder. It's certainly not a magic wand, and although armed with some appealing ideas, it is really just a glorified eye-shadow.
Get hold of a Pixi Catching Shadows Crayon – Beaming Reflection for £12 at Look Fantastic. 
Cheeks: Bobbi Brown Highlighter Pen
The idea of drawing your blusher on might seem strange- no one wants two round circles like a Russian doll – but Bobbi Brown has got around this problem by combining a blending brush with a pen.
The pen gives perfect precision and control, whereas the brush end allows for smooth blending for a natural look. The liquid formula produces a dewy sheen that lasts all day. If it was good enough to feature in the Grazia Hot 100 products of 2010, it's good enough for us.
You can buy Bobbi Brown Highlighter Pen for £25 at Bobbi Brown
Lips: Rimmel 1000 Kisses Lip Tint
You might remember us raving about this lip stain back in February (check out our verdict here), and it looks like we're at it again. We loved the novelty of this product, and although other brands offer similar lip-stain pens, Rimmel still holds out as the cheapest for what you get.
This pen really is satisfying to apply- unlike lipstick, the pointed tip allows for extremely precise application so you know you're colouring within the lines.
Head over to Boots and part with a mere £6.99 for your Rimmel 1000 Kisses Lip Tint pen.
Now all you need to do is dust off that fluffy pencil case!